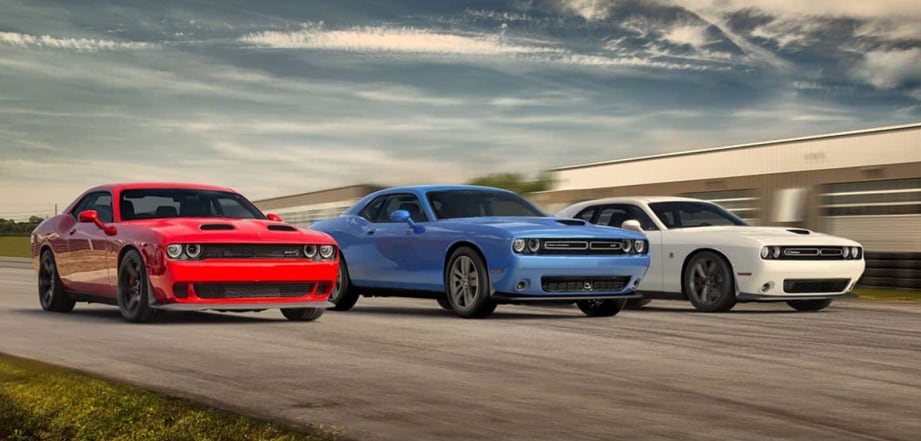 When it comes to power, style and attitude, one model is king: the Dodge Challenger. With lots of speed and serious horsepower, the Challenger is one fun car. If you've been thinking about purchasing one, you've probably run into a dilemma: which version do you get?
The Demon vs. Hellcat debate is fueled by passion on both sides.
If you have questions about the SRT Demon or the SRT Hellcat, this article will help decide which one to buy at Glenn Polk Autoplex.
Let's start with horsepower
When it comes to deciding between the Demon vs. the Hellcat, the Demon takes this round if you are basing your decision on sheer horsepower potential. The Hellcat still does a very respectable job with horsepower, with a 717 hp supercharged Hemi V-8. The Red-Eye Hellcat steps it up a notch with a powerful 797 horsepower drive.
Meanwhile, the limited-edition Demon boosts up to 840 horsepower when filled with 100-plus-octane race fuel and a special engine package. You will also need to remove some interior pieces to make the vehicle lighter, but once you do, Dodge claims the Demon can go a quarter mile in under ten seconds at an impressive 140 mph.
As far as exteriors go
Both vehicles have plenty of style. Get your Challenger in a color that suits you best, from the classic sportscar red to a fun orange shade called Go Mango. The Demon is a slightly wider vehicle by a few inches. However, purchasing the widebody option for the Hellcat will achieve the same look.
The technology package
It's nothing to scoff at either. After all, what's a good drive without great music? Dodge's UConnect system was called best in class by Edmunds. Apple Carplay and Android Audio are both standard with either car, as is a rear camera, parking assist and voice navigation.
As informative as reading about these vehicles are, nothing will help you truly decide between Demon vs. Hellcat until you come in and test drive one for yourselves. So, ladies and gentleman, start your engines and get down to Gainesville, where you can buy some serious SRT performance at Glenn Polk. If you need to finance your vehicle or bring a trade-in vehicle, we offer excellent options.
Either way, come check out the Hellcat and Demon Challengers for sale in Gainesville!