Get a Free AGPack with Your New Ram Truck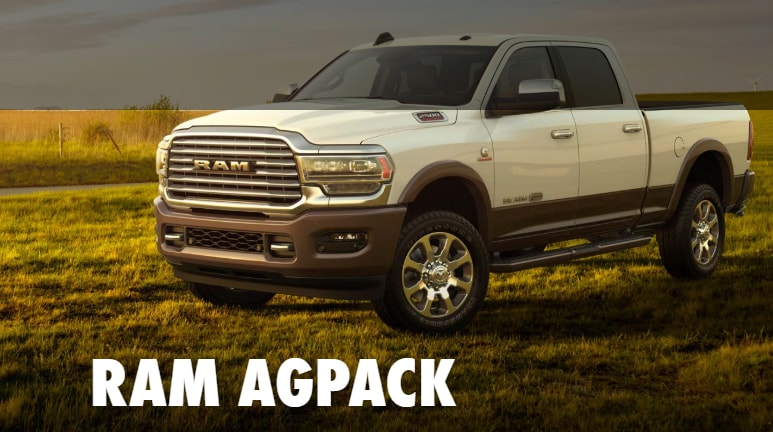 Farmers are the backbone of American living, and we count on each of you to enjoy the life we have. Now, we have the chance to give a little something back to those who do so much for the rest of us. Buy one of the terrific Ram trucks for sale at Glenn Polk Autoplex, and get a new AGPack for free! We have partnered with ArgoLiquid and Crop Copter to create a great farmer's package to go with the best farm pick up in America. Overall, the AGPack includes $5,000 worth of farm management tools and rebates, all yours when you buy one of our Ram trucks.
The Ram's legendary durability, along with its ploughing, towing, and hauling abilities make it the best ranch truck on the market. Now with your free AGPack, you can maximize efficiency and profitability for your agricultural enterprise today.
Making the Most of the Ram AGPack
You already know what it's like to drive with the power and reliability of classic Ram trucks. Now, when you find the answer to your search for Ram trucks for sale near me, you get to add on the Ram AGPack, which includes:
· $2500 rebate on any Titan® or Goodyear® Farm Tire product
· 25% off MSRP on Rhino AG products PLUS a gift card valued between $100-$200
· $250 Soybean seed rebate, or $1000 corn seed rebate from NK Seed
· $1000 toward AgroLiquid Crop Nutrition
· One year subscription to AgriEdge, valued at $5000
· $1000 toward a new Reinke irrigation system and $500 toward parts on existing Reinke system
· Unlimited Ram exclusive discounts on many Gallagher livestock products
· Ram exclusive after-purchase rebates up to $1000 on EBY Stock, Equipment, and Grain trailers
· $250 rebate on a Knapheide upfit to your RamAG truck
What's even better is that you can stack all of these benefits on top of any manufacturer incentives (FCA, Business Link, CNH, etc.). As a result, you're not only buying a premium Ram truck from a certified Ram AG dealer, but your farm gets the shot in the arm it needs to stay ahead of the market.
Glenn Polk Autoplex realizes the unique needs of farm and ranch owners. Our friends and family have lived on or near ranches and farms for decades. In the modern economy, it's getting harder and harder for families to make it each year. Because of this difficulty, we wanted to do something to make it a little easier for the folks who make America grow. Our team of specialists have gone through exclusive training to serve agricultural customers better. To stay fresh, we participate in weekly meetings to keep up-to-date on the changes in the agricultural world.
Stop by Glenn Polk Autoplex Today
We've made it simple to get your Ram AGPack bundle. Just visit the dealership at 4330 N Interstate 35, Gainesville, TX 76240, and ask for any of our Agricultural Specialists: Joel Gomez, Steve Mangus, Chad Maynard, or Trent Polk. First, work with them to verify your responsibility for an agricultural enterprise. Then, find the perfect Ram truck for your needs and claim your AGPack worth more than $5,000 in farm management tools and incentives. Contact us today for more information, and we'll see you soon!