Ram 2500 Towing Features: The Pinnacle of Power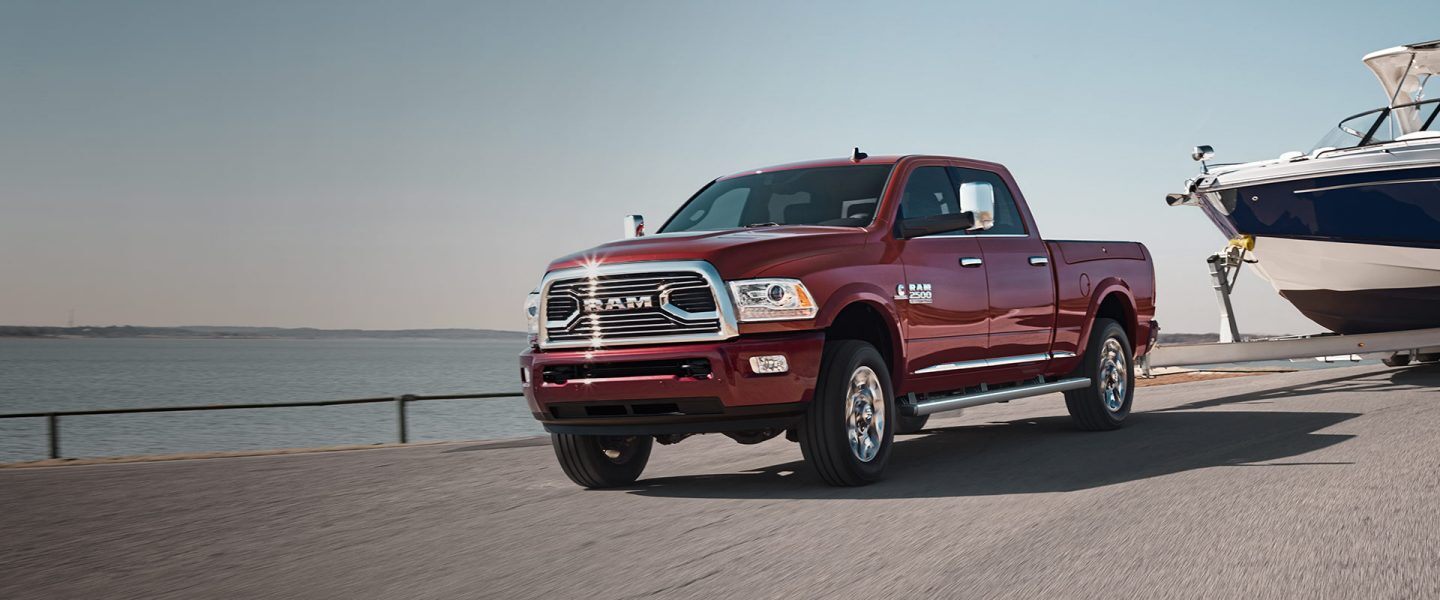 Don't get stuck with a truck that can't pull its weight. We've all felt that sinking feeling - sometimes literally - when you've hitched your truck to a load that's a little too large. Fortunately, thanks to Glenn Polk CDJR in Gainesville, TX, and the new Ram 2500, you'll never have to feel that way again. With the 2019 Ram 2500, towing capacity issues are a thing of the past due to its legendary performance.
'With Great Power Comes Great Responsibility'
When you come home with the new 2019 Ram 2500, don't be surprised if your friends and neighbors start calling you for a little help. The iconic power of the 6.7L Cummins Turbo diesel engine empowers your Ram 2500 HD to tow almost anything. With a max towing capacity in excess of 17,000 lbs, you can rest assured that your towing experience will be smooth. Combined with all the great features of the Ram 2500, it's no surprise that the Ram 2500 is one of the most sought-after trucks in America.
Whether you're hauling horses on the farm or taking the boat down to the lake, the Ram 2500 has your back. The updated 6.7L I6 Cummins Turbo diesel engine now provides even better torque ratings for the best towing capability without compromising on efficiency. When equipped with this engine, the Ram 2500 diesel truck can tow up to 19,780 pounds. That's the best in its class while still leading the pack in fuel efficiency to save you dollars at the pump. You'll undoubtedly appreciate that efficiency when your friends 'volunteer' you to help them out on the farm or to tow their RV.
In It for the Long Haul
As we mentioned, the Ram 2500's power doesn't come at the cost of its convenient features and modern amenities. The Ram 2500 is carefully designed to ensure you can easily access its towing power time and again. Further, you're in for a smooth ride no matter how large the load you've hitched to the back.
Hitching your trailer is easy with a dynamic centerline display with hookup assist and an available class-exclusive auto-level rear air suspension. The suspension automatically adapts to shifting loads and changes in road levels, allowing you to balance a heavier workload. Say goodbye to rough rides that wreak havoc on your suspension.
Additionally, the Ram 2500 includes a bed-lowering mode, which brings the rear suspension to its lowest point for easier trailer hook-up. You can also use the kick-out bed step under the rear bumper to make loading and unloading your truck bed easier than ever. After your first few uses of the Ram 2500, you'll wonder how you ever managed without its power and convenience.
Visit the Conveniently Located Glenn Polk CDJR Near Me
Once you've recognized that the impressive Ram 2500 is suited for your needs, come on down to Glenn Polk CDJR. You can visit the dealership at 4330 N Interstate 35, Gainesville, TX 76240. We're open from 7:30 AM to 7 PM, Monday through Friday, and 8 AM to 6 PM on Saturday. Contact us today or drop on by to test drive your new Ram.