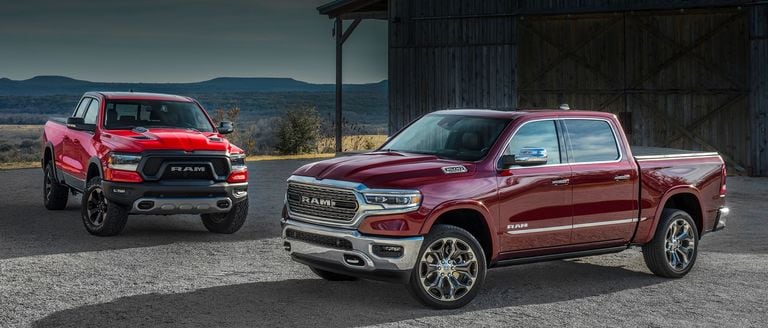 At Glenn Polk Chrysler Dodge Jeep RAM (CDJR), we are preparing to welcome the 2020 RAM 1500 (including the efficient and powerful EcoDiesel models) to our dealership and showroom. However, if you are looking for a light-duty pickup truck right now and want something that has received reliable reviews and praise from automotive experts and drivers alike, look no further than the 2019 RAM 1500. This truck arrived on the market in the first half of 2018 as an early 2019 model year vehicle. It remains one of the best light-duty trucks on the market, thanks to its power, beautiful interior, intuitive multimedia system, and numerous other features and capabilities. If you are considering this truck as your next automotive purchase, read on to learn a bit more about what the 2019 RAM 1500 has to offer.
What to Know about the 2019 RAM 1500
MSRP for the standard 2019 RAM 1500 truck is around $33,000, though the base model of the 2019 RAM 1500 Classic starts at a markedly lower price point (closer to $27,000). For this page, we will be focusing specifically on the 2019 RAM 1500, not the RAM 1500 Classic. The Classic is essentially a continuation of the previous generation's designs and trims for the RAM 1500. Said another way, the Classic is just another manufacturing run of the 2018 RAM 1500. While this factor means that drivers can get a pretty good deal on a RAM 1500 Classic, it also means there is some confusion around why there are so many different 2019 RAM 1500 models. We stock both the Classic models and the all-new 2019 RAM 1500 models at Glenn Polk CDJR. However, to be as informative as possible, we are going to talk about only the redesigned 2019 models from this point forward.
Perhaps where the 2019 model of the RAM 1500 most excels when compared with other light-duty pickup trucks on the market is in the interior design. In fact, several reviewers have put the 2019 RAM 1500 in the running for the title of "nicest car interior on the market," period, of any class of cars. If you are looking for gorgeous interior aesthetics and luxurious comfort for both yourself and your guests, you can't go wrong with any trim level of this truck.
What makes the interior so lovely?
First, RAM designed the 2019 1500 to have one of the most state-of-the-art cabins of any modern truck, which means it's loaded with cutting edge and intuitive tech. The 12-inch touchscreen is the largest in the light-duty truck class. The touchscreen can also be customized to suit the driver's needs and preferences, has zooming capability to make navigation easier, and pairs with your devices seamlessly through the Uconnect touchscreen and its Apple CarPlay integration capability. The 2019 RAM 1500 also boasts powerful audio (thanks to a best-in-class Harmon Kardon premium speaker setup), attractive design (there are different color schemes that are exclusive to each model trim), a 10-square-foot "dual panoramic" sunroof), plenty of legroom for rear passengers (a best-in-class 45.1 inches), and lots of storage space (including innovative under-seat storage and flat-load floor designs).
If you are looking for the best RAM truck engines for towing, the 2019 RAM 1500 may or may not be the ideal option.
Payload and Towing Capacity Features
As a light-duty truck with a 5.7-liter V8 engine, the RAM 1500 isn't necessarily aiming for the big-payload customer base. That's not to say that the 1500 doesn't put up good numbers: Depending on the trim, truck bed payloads can range from around 1,700 pounds to 2,100 pounds, while towing capacity tops out around 12,750 pounds (with the Tradesman trim). Those numbers mean that the RAM 1500 is perfectly adept at moving some furniture or towing a boat, ATV, or trailer. If you're looking to haul or lift more, though—say, an RV or a horse trailer—you are going to want to move into one of the heavier-duty RAM truck ranges. For instance, models of the 2019 RAM 3500 can handle up to 7,680 in payload and up to 35,100 in towing capacity.
Bottom line, the 2019 RAM 1500 offers a good balance of light-duty cargo capabilities and luxury interiors. If that's a balance you're trying to strike with your next pickup truck, this model might be the perfect fit.
Searching for a Ram Dealer Near Me in Gainesville, TX?
If you're convinced that the 2019 RAM 1500 is the right truck for you—or if you at least want to give it a test drive to find out more—stop by Glenn Polk CDJR, near Gainesville, TX. We have several models of the RAM 1500 for sale, both new and (lightly) used. Contact us today to schedule a test drive or stop in to see the trucks and chat with one of our salespeople.
Alternatively, find out more about the RAM 1500 right now by visiting
our digital model showroom
. There you can find a digital brochure and see every vehicle we have to offer at Glenn Polk CDJR, all in HD. We believe that knowledge is the best key to identifying what you want before you visit the dealership—and to making sure you get the best deal possible for your next vehicle. We strive to be 100 percent transparent about the vehicles we sell so that it's easy for you to make an educated and informed decision.